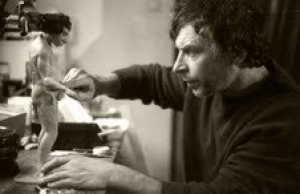 Pawel Althamer
Born 1967 in Warsaw, Poland / Lives and works in Warsaw
Pawel Althamer describes his projects as social sculptures intended to produce new urban legends and collective myths. He looks for participants of his projects or material for his social sculptures mostly in his immediate milieu: his wife and children, close and distant relations, friends, neighbors, students he tutors at the Warsaw Academy, mere acquaintances and sometimes even passers-by. Besides creating new social communities, Althamer involves the already existing ones, such as subcultures of bikers, street musicians, tramps, industrial workers, illegal migrants et al.
In recent years most of Althamer's works make part of his grand project Common Task. The project participants work together, meet scientists, set off on unorthodox journeys, like the one to Mali, the country of the mythical Dagons. On another occasion, they traveled to see the modernistic architecture and social utopia of Brasilia. On the 4th of June 2009 over 150 participants of the project arrived in Brussels on a golden Boeing 737 designed by the artist. Their first stop in the city was the Expo 58 site. The famous Atomium was a starting point of their visit.
Although both projects are provided with an archive of photo and video documentation, the artist holds true to his credo of non-spectacularity of art and refuses to exhibit these materials as a part of the exhibition. The sole trace of the Invisible Hand's presence in the display is a single handprint on the wall within a Museum gallery.