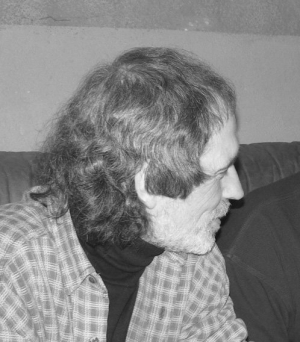 Jiri Kovanda
Born 1953 in Prague, Czech Republic / lives and works in Prague
With no professional training, Jiří Kovanda still managed to get into art with exceeding ease. Even back then he drew for inspiration directly on reality, the everyday world, passing events and the vicissitudes of life. His performances, with their scenarios and creative impulses, according to the artist himself, 'are purely subjective – they are the product of emotional outbursts and the most natural aspirations of an individual (love, desire of communication, friendship).' While involving people into ephemeral scenarios, Kovanda helps them escape anonymity – he turns to them, gazes into their eyes, tries to get acquainted with them etc. This choice of a subtle intervention into the world, the desire to minimize his presence in it might be the legacy of the Prague life of the 1970s. The traumatic finale of the Prague Spring made him wish to take a back seat in life.
Untitled (January 23rd 1978, Staroměstské náměstí (Old Town Square), Prague 1978, Photography
What Means to Work? 2011 Video documentation of performance
Featured within the Impossible Community project is the photograph of his performance from the 1970s, which is paradoxically reminiscent of the Disappearance action the ESCAPE Program performed in the 2000s. Kovanda made it a rule to accompany his works with a concise comment, and here it reads: 'I arranged to meet a few friends. We were standing in a small group on the square, talking. Suddenly, I started running; I raced across the square and disappeared into Melantrich Street. January 23,1978, Staroměstské náměstí, Prague.'
The second of Kovanda's works on display was designed specially for the Impossible Community show. 'Young woman wearing a wedding gown selling roses at the opening,' – was the comment by which the artist introduced his new work.
Thus, even though perceiving human community as the most precious gift in our life, Kovanda still prefers to escape from it, in a fear he might do it the slightest harm, or else, to send it a bunch of red roses as a romantic offering.