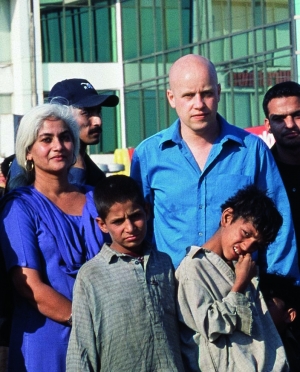 Jens Haaning
Born 1965 in Copenhagen, Denmark / lives and works in Copenhagen
Jens Haaning rejects the idea of universal humanity, which leads him to the rejection of universal art as well. And this aesthetic paradigm, alienating artwork from life to turn it into a sublime object, blurs out all distinctions between the spectators looking at it. Haaning, on the contrary, wants art to be in the midst of life and to mirror all its contradictions. In theVietnamese Folk History both the Vietnamese listeners and the perplexed passers-by are not so much the audience as the participants of Haaning's project. With all their differences, they are his Artwork.
Vietnamese Folk Story
2011
Audio installation
Jens Haaning's Vietnamese Folk Story makes use of a loud-speaker on the building of Khudozhestvennyi cinema in the Arbatskaya Square to transmit folk stories in Vietnamese in a predefined order. The broadcast is to take place daily from September 6th to November 6th 2011, that is over the whole duration of the Impossible Community show. The artist has already created several versions of this work for Oslo, Copenhagen and Berlin. Yet, each time it moved to another city, the project itself changed, embracing the local realities. The features particularly prone to change were the language and the genre of oral fiction, so that different versions of the same project bore different titles: Turkish Jokes, Arabic Jokes, Vietnamese Folk Story.
Needless to say that the Vietnamese Folk Story is intended as a friendly gesture towards an important ethnic minority in Moscow. It is also beyond question that the artist sincerely believes in the values of human solidarity and wouldn't tolerate any form of racism, ethnical or religious prejudice. Still, despite the simplicity of Haaning's invention, the project has a paradoxical depth of its own. Its effect on audience shows that when the artist aims to call for solidarity, it is by way of disuniting people at start that he seeks to achieve it. Sure enough, even though stories are generally thought to bind people, the Vietnamese Folk Story rather dissociates than binds. As the voice in Vietnamese resounds in the very centre of Moscow, it cuts off the Vietnamese listening to the loudspeaker in the Arbatskaya Square from the people in the street, who simply cannot understand what it is all about. For another thing, you can never in all certainty expect a Russian to draw the moral from a Vietnamese story or a German to laugh at a Turkish joke.
In a political sense, the Vietnamese Folk Story may be interpreted as follows: the creation of global community is no guaranty of social harmony; instead, the existing communities should be respected in all their diversity. In other words, if we want to love our neighbor as ourselves, we should appreciate precisely what sets us apart, not what we have in common.
View Larger Map