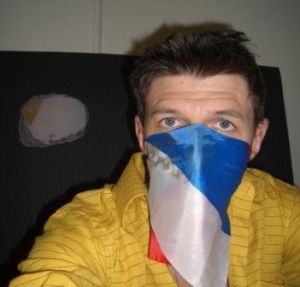 Anton Litvin
Born 1967 in Moscow, Russia / lives and works in Moscow
Anton Litvin, once a co-founder and active participant of the ESCAPE Program, returned to work as an individual artist in 2006.
REMINDER 2011 Object, video
In the project REMINDER created for the Impossible Community the artist revitalizes the sensation of collective work that he experienced together with his ESCAPE Program companions. As reminders of the community of artists that is no more, one whose part he had once been, Litvin hanged out on the Moscow streets specially made road signs ESC,
The language of road signs is one of most obvious communicative systems. It is only logical that in Litvin's project it emblematizes the legacy of the ESCAPE Program with its enthusiasm for the problem of communication. But a road sign is by definition a warning: and the artist reminds and warns of the ambiguity and the sensibilities of collective creativity.
The work's dedication is its integral part: 'The project REMINDER is dedicated to Valera, Bogdan, Liza and to all admirers of the ESCAPE Program as a belated declaration of love, a memento, a lament, and a warning.'