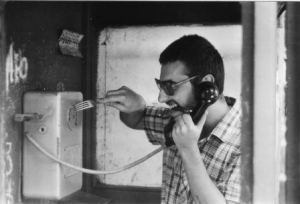 Yuri Leiderman and Andrei Silvestrov
Yuri Leiderman born in 1963 in Odessa, Ukraine / lives in Berlin, Germany
Andrey Silvestrov born in 1972 in Moscow, Russia / lives in Moscow, Russia
A Forest in a Forest 2011 Film
Both author's of A Forest in a Forest film brought to their collaboration an experience of collective creativity and existence in art communities. Yuri Leiderman started his artistic career in Odessa of the late Soviet period within a close and consolidated community of nonofficial artists. In late 1980s – early 1990s he made part of the Medical Hermeneutics group, engaged in continuous reflection on their own collectiveness as well as on the experience of the Moscow underground community over the Soviet period. In his turn, Andrey Silvestrov formed as an artist in the legendary studio of Boris Yukhananov, which always resided on the principle of indivisibility of art from collective existence.
The protagonists of their joint project are the artists of the Collective Actions group, which is the most canonical, consistent and theoretically sophisticated case of collective creativity in Russian contemporary art. The authors invited the members of the group to the studio and offered them to read the lines written expressly for them. They were supposed to do it against the background reproducing the theatre sets for Chekhov's Cherry Orchard from the production of the legendary Giorgio Strehler. Both the conditions provided by Leiderman and Silvestrov and their choice of multicamera shooting of the event ran counter all the principles of the Collective Actions' art established along the many years of work. The artists of the group had sought for authenticity, making their performances in the open country. Now they were proposed to perform in the fictitious setting of a theatrical stage. Typically, they had sought to meticulously elaborate the choreography of their art actions, while involving other participants, who had never known the whole plot. Now the role of profane performers was reserved for them. On top of everything, the shooting process never stopped. Even when the Collective Actions artists ventured, in embarrassment or indignation, to change the cues imposed on them and to criticize the plot developments. Thus, they couldn't help being subject to manipulation.
On the whole, A Forest in a Forest touches on the tender spots of any isolated artistic community. Where is the limit of control over the collective meanings generated by such a community? Does it have a power to control the generated imagery that is to stay in culture and memory? How long can the urgency and earnestness of a collective quest that has once brought artists together resist the course of time?