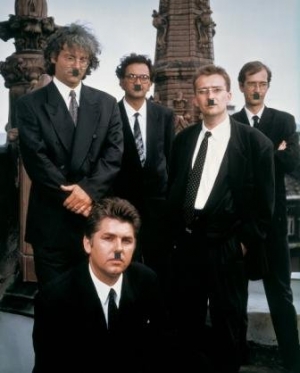 IRWIN
Established 1983 in Ljubljana, Slovenia
Dusan Mandic, born 1954 in Ljubljana, Slovenia / lives and works in Ljubljana, Miran Mokhar, born 1958 in Novo Mesto, Slovenia / lives and works in Ljubljana, Andrej Savski, born 1961 in Ljubljana, Slovenia / lives and works in Ljubljana, Roman Uranjek, born 1961 in Trbovlje, Slovenia / lives and works in Ljubljana, Borut Vogelnik, born 1959 in Kranj, Slovenia / lives and works in Ljubljana
In its nearly 30 year existence, the IRWIN group has tried its hand in almost every artistic media from easel painting to conceptual art object and performance. The group has proved a success in elaboration and realization of institutional, social and research projects. For instance, it was the group's initiative to publish a collective research East Art Map, which has remained an important reference edition on the art of Eastern Europe of the second half of the 20th century ever since.
Closing Plenary Session of the First NSK Citizens' Congress (Berlin, October 2010) Video documentation (104 minutes)
First NSK Citizen's Congress (Berlin, October 2010, House of Culture of Peoples of the World) B/w photo
Participants of the First NSK Citizens' Congress C-print
State in Time (Lagos / Nigeria, July 2010) C-print
While being itself a collective project, in 1984 the group initiated an even more complex interdisciplinary organization – the NSK, Neue Slowenische Kunst. Along with IRWIN It included Laibach, a well-known musical group, an experimental theatre Noordung and a number of other Slovenian initiatives in design, philosophy etc. In 1992, following the break-up of the Federal Republic of Yugoslavia and 'the independence of Slovenia, as a response to the ambivalent status of the nation-state and to supposedly fixed ideas of territory, ethnic group and borders,' the project NSK State in Time was started. NSK proclaimed the assignment of the status of state to thinking, and began to fulfil many a function of the state, such as issuing citizenship and passports. This non-territorial, virtual state did not identify itself with other real or actually existing states and has now grown into a collective artwork.
The NSK State is based on the self-organization of its citizens, whose number is now nears ten thousand. For instance, NSKstate.com, the key domain where one can find information about the State, is organized and managed by NSK citizens and not by the original Neue Slowenische Kunst. Their communication (mainly via the Web portal) since recent time has been stimulating the organization of joint projects and campaigns, such as the First NSK Citizens' Congress held in October 2010 in the Haus der Kultur der Welt in Berlin. 'Thirty delegates and twenty observers from all over the world along with invited experts analysed the operation of the State to date, formulated conclusions, and based on their findings made decisions about the future operation.'
One of the effects of the Congress was that the citizens and founders of the NSK State perceived and confronted a paradox. In the words of the IRWIN artists: 'If we keep in mind that the NSK State in Time was conceived as an art project, then it is necessary to admit that it is most unusual how an artifact has emancipated itself to such an extent that it formulates congress findings, a text in which a high degree of agreement with the principles of its own coming into being is declared, and on the other hand, how a social body, at least so it seems, to a significant extent recognizes itself as an artifact.'