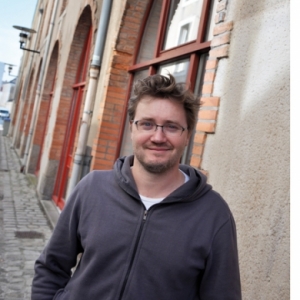 Didier Courbot
Born 1967 in Hazebrouck, France / lives and works in Paris
Born in France in a year preceding the Hot May of 1968, Didier Courbot is perfectly aware that his own art is a fruit of another age – the period when social utopia and revolutionary expectations has given way to everyday micro-utopias and mimetic strategies. A landscape designer by training, he turns his art into the acts of caring for the environment. Most of his projects explore public spaces and urban environment, combining the pragmatic approach with the poetics of small deeds.
needs
Photo documentation
Osaka (1999), Rome (1999), Paris (2001, 2002, 2004, 2006), Florence (2006)
Courbot declares the necessity of utterly artless and unassuming acts responding to everyday needs, such as repairing a bench in the park, marking a zebra crossing anew, throwing a board across the puddle for the sake of passers-by, potting flowers into tubs and hanging a starling-house in the centre of Paris, etc. All those are private and very personal interventions into the city environment. Being imperceptible and seemingly unimportant, such art interventions lack the spectacular and entertaining component – they don't need audience. Courbot's projects suggest the diversity of individual visions of the city, the multiplicity of its mental maps, which are often structured around totally inconspicuous, unexpected, seemingly unimportant objects and phenomena.