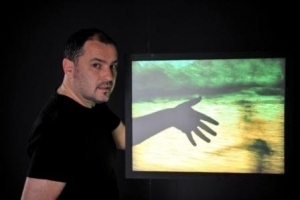 Adrian Paci
Born 1969 in Shkodër, Albania / Lives and works in Milan, Italy
Like many of his compatriots, Adrian Paci was forced to leave Albania in mid-1990s. Drawing on his hard and bitter personal experience, the artist explores such issues as adaptation to new life conditions and revalorization of one's artistic identity in a new professional context. His oeuvre deals mostly with the trauma of separation from family and relatives, the loss of home and native land, the tantalizing quest of a new identity.
Apparizione (Appearance)
Two-channel video
Paci shot the film for the Apparizione project on a plain video camera. One of the screens shows the close up of the artist's little daughter 'singing with childish coquetry an Albanian folk song: Qingj te buute, llora-llora, qingj te buute, llora-llora… This scene was shot in Milan to be broadcasted to the relatives left in Albania. They form a group of grandmas, grandpas, uncles, aunts, that till that moment, shivering with emotion, had been reading the song on her lips. Suddenly, as if under the command of an invisible director, they start to sing the rest of the song: A s'ma fal nji qingj te bute, bee bej amaan…' The alternation of the two embodies the changeability of life, the existence in-between, the simultaneous presence at home and in the world at large.
The title of the work is symbolic. It alludes to the religious motif of miraculous apparition, beatific vision. In the contemporary globalized world, the world of migration and loss of roots, the mere integrity of a kin group, a family, a community is a miracle per se. Yet, this miracle is of an everyday kind, since the communities survive against all odds, thanks to the people's effort to miraculously preserve them. After all, according to an eminent anthropologist Benedict Anderson, all contemporary communities are the imagined ones.