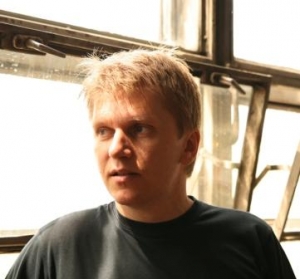 Roman Ondak
Born 1966 in Žilina, Slovakia / lives and works in Bratislava, Slovakia
'Roman Ondak's performances invade the reality of people's lives subtly and inconspicuously. He changes the flow of everydayness with minimal gestures, bringing to it a moment of the absurd and of alienation.' The artist is always in search for a place or a situation where art and life could become one; he creates intervals where differences between the two, so-to-say, smash and crush.
For Ondak his quest is justified by the fact that the world is now visually oversaturated, while social relations are more and more mediated through images and visual technologies. His projects show how our visual perception fits into specific cultural and historical contexts and reveal the institutions framing our encounters with art and each other.
Resistance, performance
2006
The Resistance project documents the first run of a performance repeated on many occasions. The guest participants follow a simple scenario the artist has offered them – they walk in the gallery space with their shoes unlaced. This work trivializes a high notion of resistance, using it for an everyday gesture. So, it is tempting to read it as a statement of our inability to change the world and our life. Yet, it is not the only possible interpretation: one may say: if any everyday gesture can be art, being at the same time the part of the eternal fitness of things, any violation - even such a minor detail as unlaced shoes at such a minor event as an exhibition opening - may have a domino effect, spiraling into the message of defiance and shattering the foundations of society. Thus, Roman Ondak's Resistance balances on a fine line between the bitterness of defeat and the call to freedom.